Selling Your Property In Southwest Florida?
Posted:
Selling Your Property In Southwest Florida?
Don't Be Left Behind!!!
If you are contemplating selling your property in southwest Florida, be sure you are making the most informed decision in hiring the best Realtor to list and sell your property.
WATCH OUT!!
Why do I say this?  Well, take a look via Zillow or even this website of other agent's listings.  It is astonishing the lack of effort some real estate "professionals" put into the content, pics and videos for their listings.  I suggest staying away from these agents if you are selling your property in southwest Florida.
Your Pictures Suck!  Where are My Videos?!
As you research, you will find properties on the market with a one-line sentence describing the property and maybe 1-2 pictures.  These agents can barely take and upload pictures, let alone hire someone or compose / edit a video themselves.  Other photos you will see will be small in size, of poor quality and or have a really nice shot of the commode. Come on!!  Do we really need a close up of a dirty toilet with the seat up?  PS – our local MLS allows a max of 25 photos.  So why not use them up.  Small condo?  Get shots of the amenities and or surrounding area / attractions.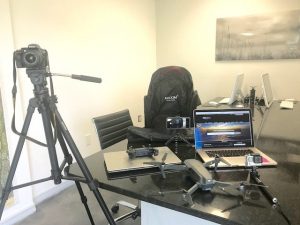 **Pictured Above – Some gear from the professionals at MAXIM LLC including but not limited to Laptop Editor for pics / vids, Drone for Aerial Shots / Vids, GoPro for Fish Eye Shots, High Res Camera, etc.
What should I look for in an agent?
I think the better question is what questions should I ask an agent if you are contemplating selling your property in southwest Florida.
Have them email links to their current / past listings.
Are they primarily a listing agent or selling agent?
How many properties have they sold in their career?
Are they full time?
Do they have a team / staff?
What marketing techniques do they use to promote their listings?
Prepare for SUCCESS – or LOSE!
If you are selling your property in Southwest Florida then it is imperative to not only hire the right Realtor but also to prepare accordingly.
If you agent is good he or she should advise on the condition of the property.  It is crucial to listen to their ideas or opinions of other professionals (IE – Staging co, designer, contractors, other agents, etc).  You must listen and try your best to be unbiased.  An example would be the dark lime green kitchen and living room that you love so much just might not be fit for the masses.
Let's increase our chances for more prospects and a quicker sale!  Other things to consider is to declutter your property including closets.  Make sure everything is spacious, clean and smells good.  Make any necessary repairs that you are aware of.  These will ALL come up in an inspection and will adversely affect your bottom line or potential kill the deal.
Price it right!  If an active comparable listing is priced at $2.3MM and 412 days on market and another comp that recently sold at $1.8MM, then we shouldn't price it at $2.35MM.  Analyze SOLD comps for true market value.  Anyone can ask any price.  It's good to know your competition but not as the main focus on pricing your property.
Get agent feedback!  if your agent is not providing feedback weekly, demand it or consider hiring a new agent.  We provide follow up Friday's to ensure you are updated at all times on prospects opinion on price, condition and location as well as current market conditions as it is always changing like the tides.
Don't Be Left Behind!
Below is a short video on stats on internet / video marketing.  We hope you enjoy.  If you would like to discuss selling your Property in Southwest Florida, feel free to contact me direct at 239.221.8777