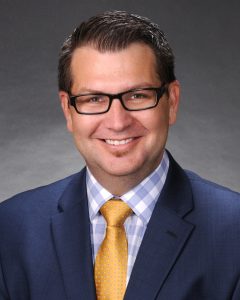 James "Jay" F. Caudill, Esq.
Professional Experience:
Attorney James ("Jay") F. Caudill is the partner in charge of the Bonita Springs / Estero Office of Woods, Weidenmiller, Michetti, Rudnick & Galbraith, PLLC.  Jay was born in Fayetteville, North Carolina, the son of Dr. Lloyd Caudill and Frances Caudill.  In 1975, his father was honorably discharged from the United States Army, and his family moved to Naples, Florida, where Jay grew up and eventually graduated from Naples High School.  Jay attended Furman University and graduated in 1994 with a BA in History.  After graduating from Furman, He attended law school at the Cecil C. Humphries School of Law (University of Memphis).  Upon completion of law school in 1997, Jay returned to Naples, Florida to begin his law practice as a family law and litigation attorney in the law firm of Asbell, Coleman & Ho, PA.  In 1999, Jay took his first position working as a real estate lawyer with Morrison & Conroy, PA, and he has been practicing in that area ever since.  In September of 2003, Jay became a founding partner in the firm of Morrison & Caudill, PLLC.  Jay is honored to have joined the firm of Woods, Weidenmiller, Michetti, Rudnick & Galbraith, PLLC in the summer of 2014.
Areas of Concentration:
With respect to real estate and finance, Jay focuses his practice in the following areas:
·                Advising clients regarding the acquisition and development of commercial and residential real estate
·                Commercial and residential real estate contract negotiation and preparation
·                Representing local, regional, and national lenders in the negotiation and preparation of commercial loan documentation
·                Closing commercial and residential real estate transactions and issuing title insurance
·                Closing refinance loans and issuing mortgagee title insurance
·                Corporate formations and structuring as it relates to real estate development entities
·                Joint venture agreements to develop, own and operate substantial real estate projects
·                Preparation of condominium formation documents, as well as homeowner association documentation
·                Loan restructures, workouts and short sales
Personal: 
Jay married his college sweetheart, Wendy, in 1994.  He and Wendy were blessed with two daughters:  Hannah (born in 2001) and Grace (born in 2004).  When not working, Jay enjoys serving as a Deacon in his church, Summit Church, going on mission trips, spending time with his family, hiking, camping, fishing and playing guitar.